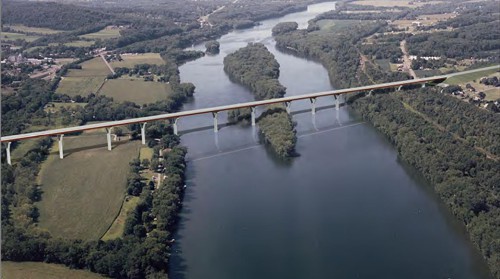 The District 3-0 Central Susquehanna Valley Transportation (CSVT) Project was a 12-mile highway project implemented by PennDOT to ease a major traffic bottleneck through portions of Northumberland, Snyder, and Union Counties. NTM was involved with the project's 2D model task for the project's Northern Section in Northumberland and Union Counties, which featured a 2D hydraulic analysis to model the flooding impacts of proposed piers in the floodplain.
NTM was responsible for the hydraulic modeling and scour analysis for a new bridge crossing over the West Branch Susquehanna River. NTM also coordinated efforts with the FHWA and FEMA and provided hydraulic analysis for the FEMA CLOMR.
As part of the Southern Section CSVT final design and construction services, NTM lead the erosion and sediment control and stormwater design for approximately six miles of a four-lane limited-access highway on new alignment, including interchanges at Selinsgrove and Shamokin Dam, the SR 0061 connector, modifications to the existing SR 0011/0015 intersection/alignment in Shamokin Dam, and improvements to Veterans Memorial Bridge between Shamokin Dam and Sunbury.