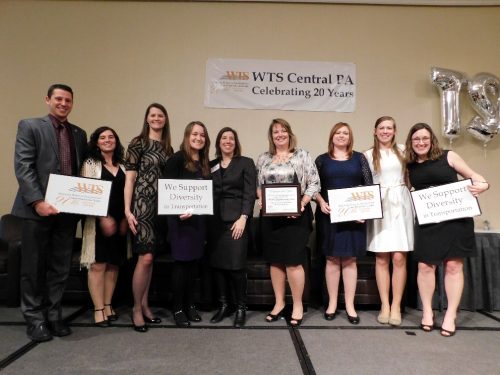 NTM Engineering, Inc. (NTM) is proud to be the recipient of the 2018 Women's Transportation Seminar (WTS) Central PA Employer of the Year Award. The award was presented to NTM representatives at the 20th Anniversary Celebration and Awards Dinner on January 30 at the Sheraton Harrisburg Hershey Hotel. The mission of WTS is to attract, sustain, connect, and advance women's careers to strengthen the transportation industry.
The award is presented to companies that are recognized for recruiting, retaining, and advancing women. Out of NTM's 47 total employees, 36% are women, which is significantly above the National average of 14% (US Dept. of Labor). NTM has provided support of WTS Central PA in a variety of ways, including sponsorship, numerous employee volunteers, and attendance at international conferences and leadership trainings.  Companywide, NTM provides mentorship of personnel and encourages professional development training, provides challenging work, and creates career growth opportunities.
"NTM's commitment and support of WTS Central PA is key to our chapter's success and growth," said Crystalann Deardorff, PE, WTS Central PA Chapter President. "NTM staff provides chapter leadership, volunteer time, and are champions in the industry that are all helping to advance the mission of WTS."
"NTM is a women-owned business and we understand the importance of having women in positions of ownership and leadership, with the ability to influence the policies, procedures, and vision of the firm. We take pride in our company and strive to promote the professional growth of all of our employees, both women and men.  We want to thank WTS for this honor and we will continue to support your efforts and hard-working volunteers," stated Donna Newell, MS, PE, CFM, President. Pictured above is a team of NTM representatives receiving the award, along with WTS Woman of the Year, Leslie Richards, PA Secretary of Transportation.
Established in 2006 and headquartered in Dillsburg, Pennsylvania, Newell, Tereska & MacKay (NTM) Engineering, Inc. employs 48 professionals and is a registered Disadvantaged Business Enterprise in Pennsylvania, Maryland, and Delaware and a Women-Owned Small Business with the federal government. NTM has locations in State College and Philadelphia. The firm's four principals—Donna Newell, MS, CFM, PE; John Newell, MEng, PE, CBI; Rachel Tereska, MS, PE; and Jeffrey MacKay, MS, PE, CPESC—are all licensed professional engineers with master's degrees in civil engineering and offer a combined 70+ years of engineering experience.