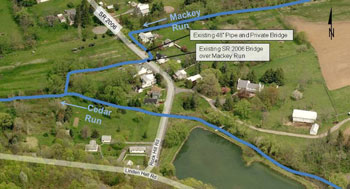 PennDOT tasked NTM Engineering with evaluating the effects of replacing the existing 18-foot, single-span concrete stringer bridge over Mackey Run with a cast-in-place, reinforced concrete box culvert with fish baffles in a new location. The proposed location is about 150 feet north of the existing bridge, but is maintained on the existing SR 2006 horizontal and vertical alignment.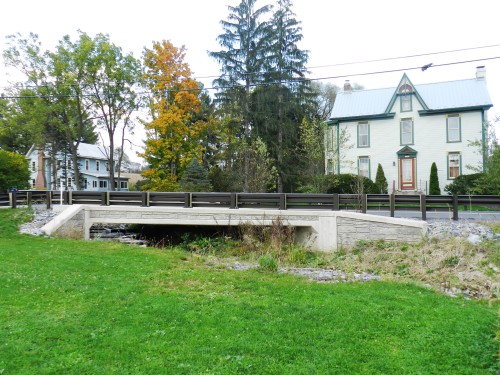 Mackey Run will be realigned through the new culvert, which will significantly improve the hydraulic performance of Mackey Run by eliminating two 90 degree bends and undersized private structures upstream of SR 2006. The existing and proposed structures are located in a FEMA-detailed floodplain, but there is no floodway on Mackey Run.
To model the complex hydraulic conditions at the site and to better define the areas that are impacted by the proposed project, a two-dimensional (2D) finite difference analysis was conducted using TUFLOW, a computer program for simulating depth-averaged one- and two-dimensional free-surface flows. The hydraulics at the site are complicated due to:  the 100-year confluence of Mackey Run and Cedar Run upstream of SR 2006, flood flows from Mackey Run across the floodplain, and the number of residences near the site that are located in the 100-year floodplain and experience frequent flooding.